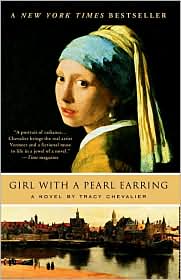 Girl With A Pearl Earring
by Tracy Chevalier
233 pages
I read this book back when I was in high school (for pleasure) so when it came up as the July book club book, I decided that I might as well read it again especially since I remember liking it well enough the first time. The one thing that I kept hearing people say about this book is that it's a little slow, but if you like art, art history, historical fiction and the like then you should enjoy it. I would definitely agree with that!
This book is Tracy Chevalier's (fictional) thoughts on who the girl in Vermeer's painting "Girl With A Pearl Earring" was (16 year old Greit, who worked as a maid for the Dutch painter) and how Vermeer came to paint her. While the plot summary sounds like it is about Vermeer, the painter, it's really more of a tale of Greit. She is forced by her family to become a maid for this painter because her father (a tiler) was blinded in a kiln explosion and she must begin helping her family. She must learn to become a servant, deal with Vermeer's jealous wife and mischievous (and evil) daughter, and sneak around to help Vermeer with his painting. Very little is actually known about the life of Vermeer, so it worked that Chevalier made him a very mysterious character. He rarely speaks aloud and allows his mother-in-law to pretty much run the household, which seems in contrast to most men of the 17th century.
The book club discussion was pretty good for this book. I found that we mostly just discussed the characters and what choices they really had in that time, and also found that most of us had characters that we really liked and some that we love to hate. It was definitely different discussing a very character-driven novel versus the plot driven ones that we have read in the past. It was a nice change up from some of the more action packed adventures I've been reading as of late!
7.5 out of 10 stars. Historical fiction and art lovers need only apply.