I read Sloppy Firsts and Second Helpings a couple weeks ago but, alas, had to wait for the library request to go through to get my mitts on the last three books in the saga of Jessica Darling. This was alright though because as much as I like Jessica and have enjoyed reliving my high school days through her journal entries, I just feel very hot and cold about Marcus Flutie. But, I still had to find out how the series ended.
(There very well may be spoilers in this...)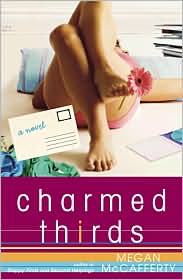 Charmed Thirds
by Megan McCafferty
359 pages


In this book, the writing format starts to deviate from the first two books just slightly. Instead of this book being just one year in the life of Jessica Darling, it ends up being all of her college years at Columbia, while Marcus is in California being, well, Marcus. During their first year on opposite coasts everything seems to be going great...then the time apart starts to wear on them a bit (especially Jessica because who in the world knows what Marcus is thinking!?) and after a particularly stressful week of "Are we really ready to be this serious?" thoughts, Jessica gets drunk and ends up fooling around with a Republican (gasp! Oh noes!!!) co-ed. This brought back some raging memories from my past...wow...because I seriously did this same exact thing to MY high-school-into-college-boyfriend, so I can kind of relate (except we weren't soul mates by any stretch of the imagination, like Jessica and Marcus seem to be).
Anyways, when Marcus finds out, he takes a vow of silence then sends himself off to a completely secluded ranch for troubled men (or something like that) in the middle of the desert where he can have no contact with anyone, except by letters. He then begins sending one word postcards to Jessica each month, because leaving her to be alone in the desert without saying goodbye isn't hard enough on the girl. Ugh. Stupid Marcus. At this point, I hate him. But, in the end, he shows up at her door with a Barry Manilow decoupaged toilet seat cover and a box full of his journals that he wrote (mostly about Jessica) while in the desert. Awww...love him again...even though I will never read those journals and desperately want to...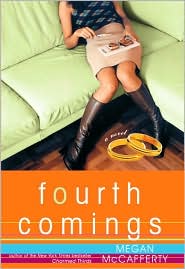 Fourth Comings
309 pages


Now the book format changes again. It's still in journal entries, but it's intended to be read by Marcus. It begins with Jessica explaining why she is getting drunk at 3 in the afternoon at a Princeton college bar. "I'm breaking up with my boyfriend today."
What?!?! But you and Marcus just got back together! Noooo!!!
Okay, well it comes out that Marcus applied to Princeton (without telling Jessica) and got accepted which means he's a 23 year old freshman living in the dorms. And I totally understand what she means when she tells him that she can't handle that because he's going to be the mysterious older guy who gets nicknames (there was a guy in my dorm who was a grad student and looked like D'Angelo so that was his nickname) and girls will throw themselves at him (yup they did). So, when Jessica returns to his dorm from the bar to break up with him, he ends up getting down on one knee and proposing. Everyone say "awwww!!!" Yup, I was excited for them at first too. I really liked Marcus (again) at this point! Jessica is of course shocked, somewhat appalled, yet can't find it in herself to say yes (or no). So she takes the next seven days to write in her journal to Marcus all her thoughts and what leads her to her ultimate decision. At the end of this book, it was my favorite of the series.
Perfect Fifths
255 pages


Then I opened this book and realized that THIS was my favorite of the series. It's written in third person (which completely makes sense when you read the book) so you get to read both Jessica's AND Marcus' thoughts! YAY! Finally! A little insight into Marcus.
So it's three years after Jessica and Marcus ended their relationship (she said no) and they haven't spoken since. Of course neither has gotten over the other, but they can't be the one to make the first contact. Jessica is at the airport, running to catch her flight when she literally runs right into Marcus. She ends up missing her flight and the rest of the book is the 18 hours that follows and how they reconnect and rediscover who the other is and who they can be together. It's all incredibly sweet and I absolutely (FINALLY!) love Marcus because I finally can be in his head a little and he's grown up a bit and doesn't seem to do things just for a reaction so much any more. Seriously, this was the perfect ending to the series and it's worth reading the other four books just to get to this one.
The ratings for Thirds, Fourths, and Fifths, respectively are: 7.5, 8.5, and 9.5 out of 10 stars. I would definitely recommend this series.